Professor Cranford Pratt, a scholar on African history and politics, succumbed to complications owing to pneumonia this past September 4, 2016 in Toronto.  Beyond his teaching career in both Canada and Africa and the more than twenty published academic articles and books, Professor Pratt worked toward streamlining Canada's sometimes inconsistent foreign policy toward Africa in the 1970s and argued against continued trade relations with apartheid South Africa.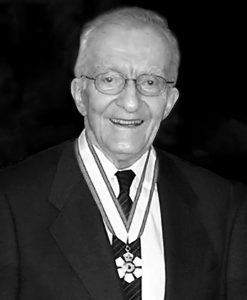 From the Globe and Mail:
When Cranford Pratt was a young political science professor at McGill in 1954, he replied on a whim to an employment ad in the Times Educational Supplement and began a career-defining connection with Africa. The job he applied for – and got – was a lectureship at Makerere University College in Kampala, Uganda. McGill granted him a leave of absence so he could take the position.
In East Africa under British rule, Prof. Pratt witnessed the struggle for independence that was gathering strength. He joined a cohort of young Canadian professionals who were sympathetic to colonial independence movements and who wanted to leverage the goodwill and resources of developed countries such as Canada to support the development of newly independent countries.
Cranford Pratt, a scholar, professor and activist who helped bridge the gap between Canada and Africa, died on Sept. 4 in Toronto from complications owing to pneumonia. He had spent the previous evening watching a Blue Jays game with his family.
Prof. Pratt "broke new ground as one of the very first Canadians to study, teach, and write about African politics," Robert Matthews, professor emeritus of political science at U of T, wrote in a tribute article in the International Journal. "His work was instrumental in overcoming the ignorance surrounding Africa and African politics and in establishing the politics of the developing world as a subject worthy of serious investigation."
As a member of a group of young academics who advised the Governor of Uganda, Sir Andrew Cohen, who had been tasked by the British with guiding the country to self-government, Prof. Pratt became an influential scholar and well known to the selection committee seeking to establish a new university in Dar es Salaam.
In 1961, Prof. Pratt was appointed the first principal of the newly founded University College of Dar es Salaam in Tanganyika (now Tanzania). In the run up to independence, the colonial government acceded to nationalist demands for the creation of an institution of higher learning. The new university, said Prof. Pratt at the time, "would not follow a British or an American curriculum. … We shall strive to create a curriculum that will be a Tanganyikan curriculum."
Prof. Pratt worked with national leaders, public servants and administrators to raise funds to expand the university, where he served as principal until 1964. He was invited during this time to serve as special adviser to Julius Nyerere, the first president of the newly independent Tanzania. Mr. Nyerere's policy initiatives were well ahead of other post-independence leaders, but his ideologically driven policy of socialism, which he translated into a one-party social, political and economic management model, was flawed. Prof. Pratt's support of Mr. Nyerere pitted him against fiercer critics of Mr. Nyerere's more authoritarian practices, most famously Prof. John Saul.
In his magnum opus, The Critical Phase in Tanzania 1945-1968, published by Cambridge University Press in 1976, Prof. Pratt traced the emergence of socialist ideology in Tanzania through the development of the political thought and leadership of Tanzania's first president.
Known for his impeccable scholarship, which included more than 20 articles and books, Prof. Pratt introduced a legion of young scholars to African politics. His former students now populate universities, governments and NGOs in Canada and around the world.
In the 1970s and 80s Prof. Pratt began to focus his work on Canadian foreign policy toward Africa and elsewhere in the developing world. In the Cold War context, Canada was keen to join other Western nations in trade and military spending in East Africa to prevent China from exerting influence in the region.
Turmoil in apartheid South Africa, meanwhile, meant that small, neighbouring, newly independent countries were in need of support. Tanzania asked Ottawa for military aid, which it supplied, while academics and activists such as Prof. Pratt helped Canadians understand why it was important to become involved in the affairs of distant developing nations.
Canada had an inconsistent foreign policy regarding South Africa at the time. While Canada denounced racial discrimination in the apartheid state, it took advantage of what a 1970 White Paper referred to as "better than normal opportunities" for trade and investment under the country's white regime.
As a member of the Committee for a Just Canadian Policy Toward Africa, Prof. Pratt issued his own paper calling for an end to Canada's trade agreements and investments in South Africa, including a ban on the sale of arms and military equipment. The group urged the Canadian government to support liberation movements in South Africa, step up development initiatives in newly independent neighbouring states and welcome political refugees.
In subsequent years, Prof. Pratt worked on themes relating to Tanzanian political economy and the moral and ethical issues relating to development assistance. In 1981-82, he was a member of the Tanzania Assistance Group, dubbed "The Three Wise Men," advising the Canadian government and the World Bank on Tanzania's economy.
"He had brilliant insights into the ethical issues connected with development at a time when Canada had a very incoherent and half-hearted approach to assistance to poor, especially African countries," said Richard Stren, professor emeritus of political science and senior fellow at U of T's Global Cities Institute.
In response to Reagan-era cuts to social programs and "punitive attitudes" toward developing countries seeking loans, Prof. Pratt, along with human rights, labour and church organizations, criticized the International Monetary Fund and the World Bank for applying policies that "reflect the ideological bias of Western industrialized governments, particularly the U.S."
Prof. Pratt said at the time: "Don't expect to find morality in IMF policy. …When the Americans call the tune, borrowing countries have to dance."
His notion of "humane internationalism," which underpinned what he hoped might be the basis for Canada's foreign aid and related foreign policies, became an important feature of subsequent discourse on these issues.
"We, Cran's friends and allies, inspired by his vision, still hope," said Gerry Helleiner of U of T's Munk School of Global Affairs.
Robert Cranford Pratt was born Oct. 8, 1926, in Montreal, the second child to Robert Godwin and Henrietta Pratt. Injured by mustard gas during the First World War, Cranford's father spent his career in the Department of Veteran's Affairs, while his mother left the actuarial department of Sun Life Insurance Co. to raise the family. Cranford's grade school years were shaped by the Second World War, during which time he rose to the level of sergeant major in the cadet corps, leading a march on Sherbrooke Street and, in one famous incident, interrupting a film at the Kent Theatre to make an appeal of support for his battalion.
He graduated with a B.A. in economics and political science from McGill in 1947, after working summers as a bellhop and wine waiter at the Manoir Richelieu at La Malbaie.
His reward was a year in Paris, where he frequented art galleries and operas. In 1948, he returned to Canada to take up a teaching appointment at Mount Allison University, but he was not there long.
Prof. Pratt was awarded a Rhodes Scholarship in 1950. At Oxford, he rowed, joined the debating society and earned a master's of philosophy, returning to Montreal and a position at McGill in 1952.
During his first stint in Uganda, on leave from McGill, Prof. Pratt met Renate Hecht, a German nurse, and the two were engaged six weeks later. They married at Renate's family home in Wuppertal, Germany, in July, 1956.
In 1960, Prof. Pratt took a teaching position at the University of Toronto, where he remained for more than four decades.
When Prof. Pratt was unable to attend the University of Dar es Salaam's 50th anniversary celebration in 2011, the university community came to him. Several Tanzanians visited U of T, where they paid tribute to him and announced that they were naming a campus building in his honour. U of T's political science department also paid tribute to him by creating the Cranford Pratt/Richard Sandbrook International Graduate Student Scholarship in Political Science. Prof. Pratt was also a fellow of The Royal Society of Canada and an officer of the Order of Canada.
Prof. Pratt leaves Renate, his wife of more than 60 years; his sister, Margaret; three children, Gerhard, Marcus and Anna Pratt; and five grandchildren, Nicolas, Francis. Zachary, Simon and Lucas.
Original article by Matthew McKean and published on October 4, 2016.
For further, please refer to the Tribute to Cranford Pratt published by the Department of Political Science at the University of Toronto on September 6, 2016.