A multidisciplinary group of mainly Canadian people, interested in the history of humanitarian aid in academia, archives, and NGOs.
In May 2017, the CNHH became an affiliated committee of the Canadian Historical Association.
Steering Committee
Webmaster:
Blog Editor:
Bulletin Editor:
Social Media Editor:
CHA Liaisons:

Jill Campbell-Miller (CNHH Panel 2022)
Nassisse Solomon (AGM; CNHH Panel 2023)

Dominique Marshall (Administrative)
Historians
The CNHH was founded by Dominique Marshall (Carleton University) in order to formalize an existing network of collegial exchanges and collaborations, and inspired by a workshop to welcome Kevin Sullivan from Ireland early in July 2014. She continues to be a driving force behind the network's activities, particularly through supervising research assistants. Early co-founders and ongoing partners in the network include Jill Campbell-Miller (St. Mary's University), Sean Eedy (Carleton University), Sarah Glassford (University of Windsor), and Nassisse Solomon (Western University).
A number of research assistants have joined us since 2014:
Research Assistants (Most Recent to Least Recent)
Caitlin Arbour (2022, History, Carleton University) works with Sylvia Harrison of Farm Radio International.
Anna Kozlova (2020-present) is a PhD candidate at the Department of History at Carleton University in Ottawa, Canada. She holds a BA in Communication Studies with a Minor in Law from Carleton University and an MA in World Heritage Studies from the Brandenburg University of Technology in Cottbus, Germany. Her research interests are focused on migration, diaspora, oral history and transnationalism. She was the lead researcher on a MITACS-funded project "Two case studies in the public history of international development policies in Canada: the Lebanese Special Measures Program (1975-1990) and The Life of Lewis Perinbam (1925-2008)," which you can read about here.
Helen Kennedy (2020-present). PhD Candidate in History at Carleton University. Helen is working on a MITACS Accelerate project entitled "Micro-Histories of Transnational Humanitarian Aid" to create policy and education materials about the work and history of the Latin American Working Group, Multicultural Council of Saskatchewan, World University Service of Canada (WUSC), IMPACT, and Oxfam Quebec/Centre for Lebanese Studies' Disability Hub. Her work with WUSC complements the projects being done by Elizabeth Reid and Anna Kozlova.
---
Elizabeth Reid (2020). Undergraduate in History at Carleton University, enrolled in the Practicum in History (HIST 3807) during 2019-20. Elizabeth worked with the communications department of the World University Service of Canada (WUSC) to inventory material stored in its Ottawa office.
Ross Zimmermann (2018-19). A fourth year undergraduate RA in History at Carleton, enrolled in the Practicum in History (HIST 3807), Ross is working in Regina at the Multicultural Council of Saskatchewan, to help organize and transfer the archives of the organization. He is supervised by Yordanos Tesfamarian, Education Coordinator.
Anne-Michèle Lajoie (2018-19). A second year undergraduate RA in the Public Administration program at Carleton, enrolled in the Practicum in History (HIST 3807), Anne-Michèle is working in Montreal at Alternatives to research the history of the humanitarian NGO in preparation of its 25th anniversary in the Fall of 2019. She is supervised by Myriam Cloutier, Communications and Mobilization Project Officer.
---
---
Lui Xia Lee (2018). A third-year undergraduate I-CUREUS RA in the History and Journalism programs at Carleton, Lui Xia assisted the archival work of CNHH member Sonya Grypma, on Canadian missionary nurses in China. Read her blog here.
---
Sandrine Murray, (2017) Journalism and History undergraduate student, I-CUREUS RA, Carleton University. Sandrine prepared and held the display tables at events such as the Philanthrothink colloquium The Future of Charity Regulation in April 2017, the CCIC Global Impact Soirée of May 2017, and the launch of the book on the history of the Canadian Red Cross in April.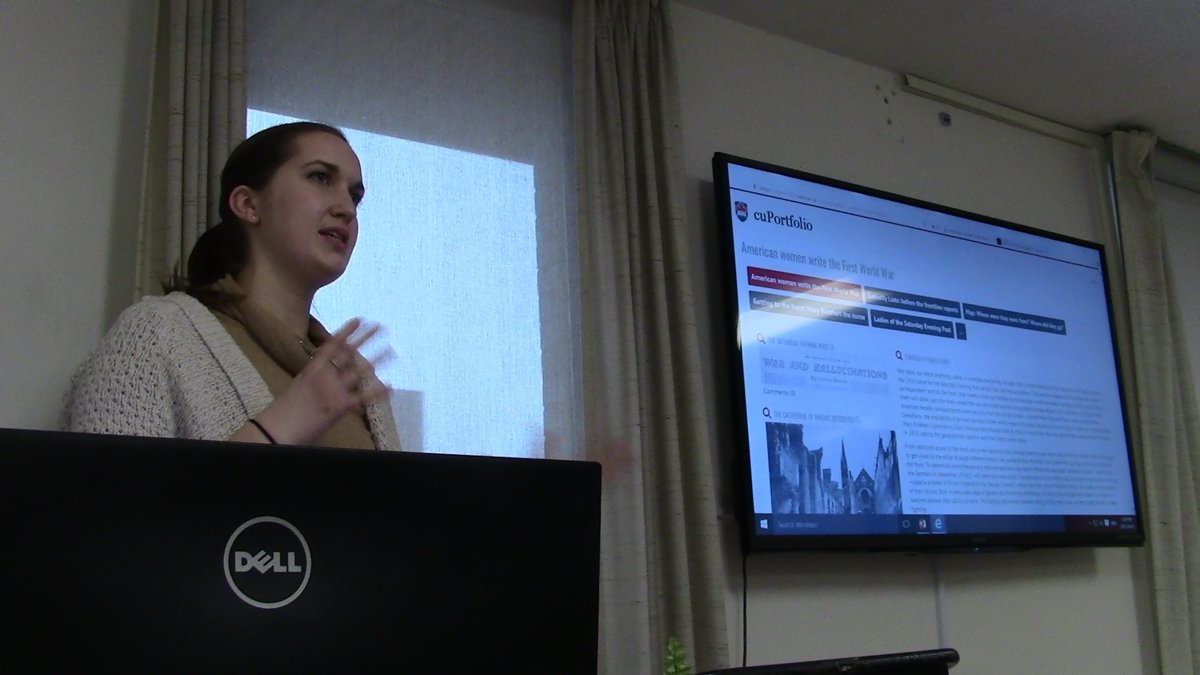 Julia Van Drie, Carleton University Undergraduate Students in Political Science and History, I-CUREUS project RA (2016-17). Julia assisted the work with the Latin America Working Group archives and history project, the Global Affairs Canada Conference on the history of foreign aid, about which she wrote a blog, When Historians Meet Aid Workers and Policy Makers, and did some research for the CCIC Global Impact Soirée of May 2017.
Julia Van Drie
Dr. Beth Robertson, (from 2017) Carleton University, Research Associate, from 2017. In collaboration with the Carleton University Disability Research Group, Beth is working on a virtual exhibition on assistive technologies and refugees. Financed by the Migration and Diaspora Studies TD Fellowship. She is collecting archival and oral histories from the Canadian National Institute of the Blind, Handicap International and other international NGOs.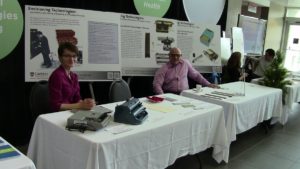 Sonya DeLaat (2016-present) PhD candidate in the Faculty of Information and Media Studies at Western University in London.  Sonya is working at a virtual exhibition on refugees and humanitarian photographs (2016-17).  She presented her work on "Iconic humanitarian photographs of the 19850s and their legacies" to the CNHH in a workshop in 2016, and co-wrote a blog on Treasures of CIDA's 30-Year-Old Photography Collections: A Visual Perspective on Canadian International Aid .
Tyler Owens (2016-17) Carleton University, I-CUREUS project, Keith Spicer archives, Global Affairs Canada Conference, 2016-17. Tyler wrote the account of the CNHH workshop on archives of humanitarian aid: Archives and Foreign Aid, A Workshop SummaryHe helped prepare two illustrated maps of Dr. Spicer's travels in Asia in 1960, displayed at the Global Affairs Canada Conference on Historical Perspectives on Canadian Foreign Aid, 1950-2016, about which we wrote a blog: Keith Spicer: Illustrated Maps of Humanitarian Travels in Asia, 1960. He also did some research for the CCIC Global Impact Soirée.
Nicholas Hepner , A third year undergraduate RA in the Department of History at Carleton, enrolled in the Practicum in History (HIST 3807), Nicholas is working at Cuso International to identify and research lives of alumni of the 1980s onwards (Winter 2016).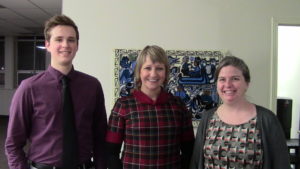 Sandy Barron, MA University of Calgary. He has helped coordinate the Third Workshop of the Network in Calgary in the Spring of 2016 and written the report on the workshop. (From 2016)
Eleanor Barney, Carleton University, Partnership Africa Canada, (2015, RA term completed). A third year undergraduate RA in the Department of History at Carleton, enrolled in the Practicum in History (HIST 3807), Eleanor provided the PAC's Communications Director, Zuzia Danielski, a report of the PAC's history for use as part of their 30th anniversary plans. Zuzia wrote a blog on the impact of Eleanor's work: Partnership Africa Canada reaches into 30-years of archives with Carleton and CNHH PAC produced a leaflet with the help of the material Eleanor gathered: http://www.pacweb.org/images/Annual_Review/pac-annual-report-en-web.pdf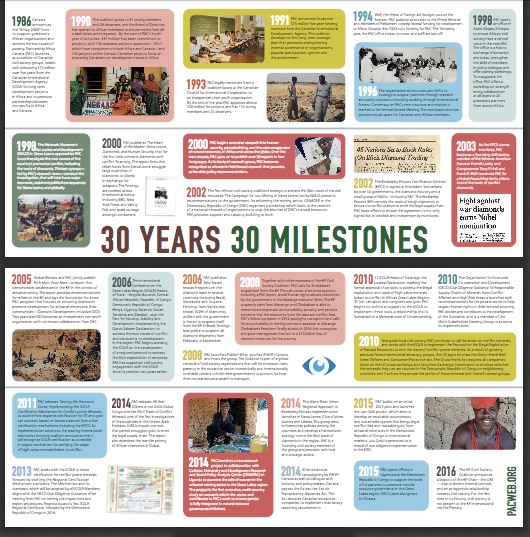 Sean Eedy, PhD Carleton University, (2015-present). Sean studies education, children's culture, comics, and the state in East Germany. His first book, Four-Color Communism, was published in February 2021 by Berghahn Books. In addition to being the webmaster, Sean wrote a blog on German Diaspora Aid in the Post-War and its Meaning for Today.
Francesca Taucer and Victoria Hawkins, Carleton University, I-CUREUS project, (Winter 2015). Both worked in the archives of OXFAM Canada at the main office to make an inventory to facilitate the transfer to Library and Archives Canada. Victoria assisted Archives and Research Collections at Carleton University in the organization of the newly acquired archives of Match International. she wrote a blog for the CNHH on one of her findings, on the Creche for the Children of Hospital Workers in Lusaka, Zambia, 1980-1981.
Uriel Contreras, from ITESM Puebla Campus, Mexico, MITACS Globalink project (Summer 2015). Uriel accompanied the CNHH at the CanadianHistorical Association Annual Meeting, helped set up the website, and organize the Second Workshop of the CNHH. He wrote a blog on his visit to the archives of Plan Canada: My Visit to Plan Canada's Head Offices in Toronto. See also Introducing Uriel: Summer Student Joins Canadian Network for Humanitarian Aid.
Nathan Ince, Carleton University, I-CUREUS project, (Winter 2014).
Erika Munoz, Carleton University, I-CUREUS Project (Winter 2013).