by Sandy Barron
AM Session
Attending: Dominique Marshall, Will Tait, Sundas Khan, Nassisse Solomon, Stephanie Bangarth, Kevin Brushett. Skype: Matthew Burch, Sarah Glassford, Erin Edwards, Kevin O'Sullivan, Laura Madokoro (10:15-11:15). Notes: Sandy Barron.
Introductions/Updates
Dominique Marshall:
1) Renew connection to CASAID?
2) Match International Archives at Carleton – Dr. Marshall will email members about progress of file     organization.
3) 2017 Conference (150 Ideas of Canada) – Kevin Brushett to look into CNHH involvement
4) Journal of Canadian Studies – 2018 themed issue on Canadian aid
Kevin O'Sullivan – make as coherent as possible; have a chapter on ethics written by a philosopher
5) SSHRCC funding – not awarded. Why? – Kevin O'Sullivan: break into different component parts to increase coherence, make more conducive to current concerns
6) Collaborations with NGOs – movement of personnel within NGOs making this difficult
7) Social Media – #aidhistory hashtag working well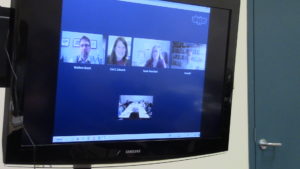 Laura Madokoro Presentation 10:15-11:15
Dr. Madokoro's project, which is coming to an end, concerns Chinese refugees during the Cold War. She is working within two preoccupations: 1) how did Canadian racism and Canadian identity as a white settler society affect refugee efforts and settlement goals, and 2) understanding refugee claims and settlement within a transnational framework, rather than simply a national story. Her primary concerns are with 1) how researchers can give a voice to migrants and not depict them purely as passive victims, as many primary sources do, and 2) understanding the political construction of the use of the term "refugee" in a Cold War context. Dr. Madokoro discussed the difficulties in relying on private records, as public records are closed for 70 years. She found that there was more access with private agency records, but that there were also more ethical questions to wrestle with. Are family members, or claimants themselves still alive? Is it possible to track them all down to receive consent? She gave, as an example, the World Council of Churches files.
Will Tait discussed the elasticity of the term "refugee," and how the Canadian government has, and continues to, use blanket legal terms out of bureaucratic necessity. Kevin O'Sullivan remarked that Europe is currently using the term "migrants" in order to eliminate legal immediacy and responsibility, and that economic necessity is driving Europe's efforts more than altruism in many cases. Stephanie Bangarth suggested that Laura pursue records of failed refugee applicants, and that the Brewin Files may offer sources from which to study claimant failures. Dominique Marshall, Laura, and Stephanie discussed how to keep access from shaping research, given the sorry state of Canadian government files on refugee claims at LAC. Laura's parting remark was that humanitarian historians need to approach similar studies from as common a narrative as possible, and avoid exploitation of claimants where possible – meaning that they should be afforded the level of personal agency that they surely had/have.
Inter-University Online Humanitarian Course – Will Tait
Will addressed the possibility of developing an online humanitarian course for Canadian and international students. The budget, he remarked, is daunting. Dominique Marshall suggested a depository for primary sources that CNHH members have already collected for course use. She also asked Will about how working in sensitive private archives affects freedom of use and comment, as Will has worked in the Pentacostal archives. Will responded that this is a concern in his own research, as he was given very open access, and will be critical of Pentacostal actions in his dissertation. Sarah Glassford also commented that the Red Cross Archives have begun to make access more difficult since her project became a book. Matthew Burch gave the example of the Canadian Hunger Fund fonds that he was given access to by a source who was in the early stages of dementia. Overall – is it possible to create a depository of found archival material for the course?
Outline of Online Course:
1) Podcast component
2) Modular use – open access to individual components
3) 12 weeks, 12 modules
4) each contributor should seek funding from their respective
Institution.
Dominique Marshall – Report
1) Doctoral student exchange next year – a student from Nigeria by way of Germany
2) Her CHA Presidential Address to be published soon
3) The Latin American Group has offered some funding to CNHH
4) Dr. Marshall delivered closing comments at a Conference regarding Baha'i refugees in Canada. Overall, her message was that the Baha'i are a success story, but that this may reflect the privilege of migrants as much as Canadian government success. Who didn't make it?
5) The Carleton Disability Studies Group's website, Envisioning Technologies, is striving to internationalize and frame concerns as humanitarian where applicable. Funds are being sought to do this work, as well as to increase the site's accessibility.
6) Dr. Marshall's current research focusses on the end of the old decentralized Oxfam system and the beginning of a centralized, international bureaucracy. With Ian Milligan's suggestion, Dr. Marshall is using web archives to study how this transition is reflected in the organization's web presence. She also stressed that the "Way Back Machine" is a possible way for historians to address the problem of disposable digital sources.
PM Session
Attending: Kevin Brushett, Stephanie Bangarth, Dominique Marshall, Will Tait. Skype: Sarah Glassford, Erin Edwards, Jill Campbell-Miller. Notes – Sandy Barron.
Dominique Marshall – Reports
1) New members.
2) $500 donation from two anthropologists for a CNHH research assistant.
3) Ask members at Ryerson for assistance at next year's Congress there.
4) Ask Chris Roberts at the University of Calgary to report on the Romeo Dallaire talk.
Funding/Projects
1) Existing funds – $10,000. With a grant to Nassisse Soloman, this workshop, and payment to Sean Eedy for website maintenance, less than $2000 left.
2) Pitch funding to Carleton's Research Office. Stephanie suggested that the application expand beyond history and be as coherent as possible.
3) Incoming money – Migration Diaspora: $2300; LA Group – $1250
4) SSHRCC application request – $125,000
5) MITACS application ask – $7500. Need to meet matching requirements and cannot use University money to do so. Could pursue alternative sources of money to reach matching funds from Global Affairs Canada, foreign embassies, Canadian Council for Refugees, CARE, Racozi Foundation, and by offering to partner with organizations by performing research duties. Perhaps, with Racozi, CNHH could offer a focus on Hungarian refugees in Canada. Other possibilities for matching funds could be: Canadian human Rights Museum, Asper Foundation, Ukrainian groups, Canada 150, Virtual Museum of Canada (for this, CNHH could pitch a digital refugee exhibition for September).
6) Should CNHH seek a table at the Humanitarian Coalition Conference? $750, so likely not worth it.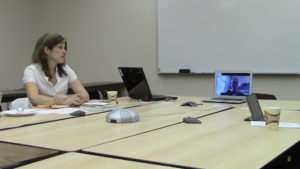 Jill Campbell-Miller Presentation
Jill discussed her post-doctoral research, past and present, on the Canadian role in development projects. She tied her work to Canada's settlement colonial past. Canadian governments invested heavily in dam construction projects in India, in addition to support for India's burgeoning nuclear power industry through Candu reactors. India, in the post-Colombo development world, "made Canada a donor nation."
Collective Review of Website
Jill – expand collective bibliography
Matt – move text into main picture at top of page to limit scrolling
Erin – add a description of the main picture on home page
Dominique – can members submit copyright free pictures for website that are not exploitative of subjects?
Sarah – some distortion of small pictures and typos to be addressed
Matt – are we tracking website metrics? Can we create an automatic twitter/Facebook feed that shows web traffic with #aidhistory hashtag? Can we create a blog section dealing with archival issues and advice/resources? Of especial use could be a primer on approaching and negotiating archives.
Publications – Recent and Upcoming
Stephanie Bangarth – piece on the Brewin Archive as an archival source
Sarah Glassford – a piece on Australian involvement in historical aid projects as well as a piece on Robert Gourgan's role at the Red Cross.
Matt Burch – piece on a song featured in "The Secret Hunger", the digitized Ustanov film at NFB
Upcoming Conference/JCS Journal Edition
Current plans are for a conference in December 2017 and a Journal of Canadian Studies themed issue in 2018. Should CNHH defer for a year? Kevin O'Sullivan suggested that the issue include input from non-academics who work at NGOs, and should include an introduction dealing with ethical issues written by a philosopher.
Conference – December 12-13, 2017?
Conference issues include increasing regional representation, and including an environmental component, which is missing from papers that have been pitched. Stephanie will contribute a paper on F. Andrew Brewin, and Jill will contribute a paper on "how India made Canada a donor."
Further Business
Logo – does CNHH need one? Can we find a media designer who will design one for $150.00?
CNHH project with LAC to improve access to/organization of CIDA fonds: Kevin Brushett will take the lead on this. Goals – digitize and organize RG 74. LAC's fonds descriptions misleading and need to be simplified, and a finding aid needs to be produced.
A finding aid for the Match fonds at Carleton is being produced. Dominique will distribute this when completed.
Enlist Joan Sangster's help to help lobby NFB to re-open their archives. Jill will do this.
Panel at Ryerson 2017? Perhaps a joint panel with philosophers about ethics and aid? Dominique to approach head of the Canadian Philosophical Association.
Other event participation – Kevin Brushett interested in delivering a paper about the "Kielburger Effect" at an event to be determined. Is aid about vulnerable communities or volunteer's resumes?
The Mennonite Central Committee has expressed interest in collaborating with the CNHH.
Peacekeeping Conference at RMC in two years – if the mandate is broadened, there could be valuable CNHH involvement.