1919: A Revolution in Children's Rights
This talk was delivered by Dr. Dominique Marshall on 15 October 2019 at the Ottawa Art Gallery, sponsored by the Ottawa Historical Association.  This page is cross-posted with the Ottawa Historical Association website.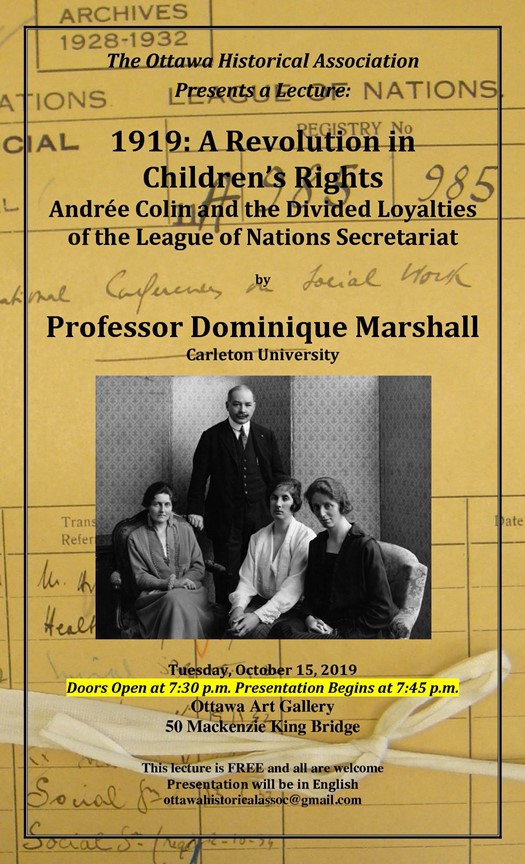 In 1924, the main employee of the Belgian based "Association internationale de protection de l'enfance", moved to Geneva, as part of the agreement concluded by her employer with the League of Nations (LON). As one of the handful of members of the Social Question Section of the Secretariat of the LON, a position she occupied for 17 years, she travelled to international conferences, maintained an abundant correspondence, and supported the work of three successive directors of the Section. The papers she left in the archives of the LON reveal a network of Catholic charities, social workers and civil servants, as well as a group of French speaking reformers, who offered alternative notions of universal children rights, during debates otherwise dominated by Britain and the United States. The talk speaks of the many tensions behind the apparent simplicity of the first universal Declaration of the Rights of the Child of 1924, such as the nature of childhood in colonial territories, the very definition of childhood, the roles of states, churches and professions, the desirability of institutions and of foster families, and the political role of children.
---
Dominique Marshall is professor of History at Carleton University. She researches the history of childhood, families, human rights and humanitarian aid. She is a member of the Canadian Network on Humanitarian History, the Carleton University Disability Research Group, the Local Engagement Refugee Research Network and Gendered Design in STEAM for LMICs.