by Sarah Glassford
April 25, 2022
Over the last two years, the CNHH has worked with the Lewis Perinbam Innovation and Impact Awards to preserve and share the memory and legacy of one of the most influential humanitarians in Canadian history: the late Lewis Perinbam.
The Malysian-born, Scottish-educated Perinbam spent most of his career in the Canadian International Development Agency (CIDA), and "anyone who worked in the international development field in Canada during the 1970s and 1980s would be familiar" with his name. Although Perinbam's work is well-documented in archival collections and discussed in scholarly publications, those who knew and worked with him wished to make his impact more accessible and widely known to the general public. As one writer summed up his remarkable career: "Lewis was instrumental in fostering partnerships between Canada and the Global South, in making education more accessible to all and in creating opportunities for young people to become more involved in making our world a better place." [1]
Thanks to a grant from the MITACS agency, Carleton University doctoral candidate in History Anna Kozlova was able to conduct a series of interviews with friends, relatives, supervisors, mentees, and co-workers of Lewis Perinbam, exploring his significant role shaping humanitarian work and humanitarian workers in both governmental (CIDA) and non-governmental organizations of the later 20th c. The result is a fascinating composite portrait of a pivotal player in the Canadian and international development scene.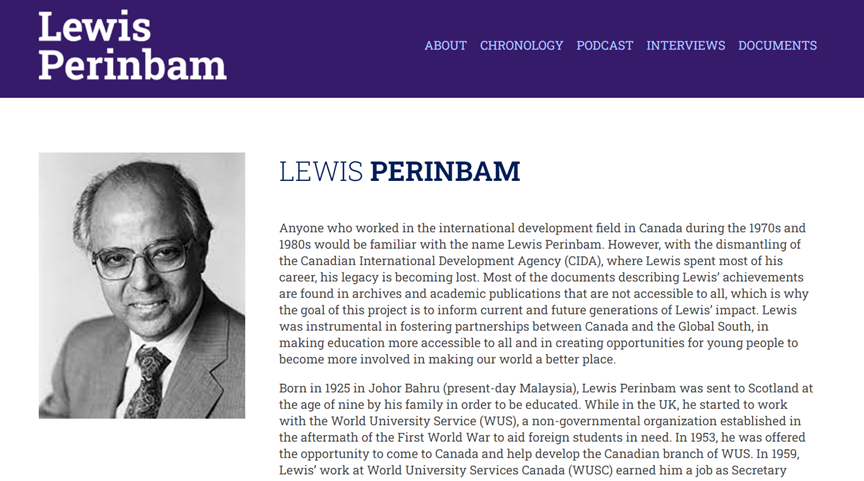 Kozlova's thoughtful interviews, as well as a selection of archival documents not previously available to the public, a podcast, and a timeline of Perinbam's life can be found in a curated Lewis Perinbam web portal hosted on the World University Service Canada (WUSC) website. Information about the Lewis Perinbam Award (for exceptional volunteers in the field of development work) is also available through the portal.
As ever, the CNHH is proud to support efforts like this one which work to preserve and share the history of humanitarian aid and development work in Canada and beyond.
– – – – – – – – – – – – – –
Anna Kozlova is a doctoral candidate in History at Carleton University and CNHH member interested in migration, diaspora, oral history and transnationalism. She was the lead researcher on a MITACS-funded project "Two case studies in the public history of international development policies in Canada: the Lebanese Special Measures Program (1975-1990) and The Life of Lewis Perinbam (1925-2008)."
Sarah Glassford is the current editor of the CNHH blog, archivist in the University of Windsor's Leddy Library Archives & Special Collections, and a social historian of 20th c. Canada.
---
[1] WUSC, Lewis Perinbam web portal homepage, https://lewisperinbam.wusc.ca/ (accessed 21 April 2022).