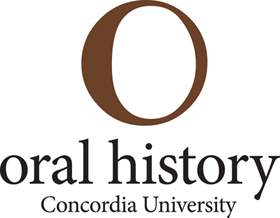 History Inhabits Each of Us: Creative Engagements with Personal Story in Troubling Times will be held at 4th Space
---
Location:
4th Space , Concordia University 1455, boulevard De Maisonneuve Ouest Montreal, QC Canada H3G 1M8
---
Date:
Wed 10/10/18 to Sat 10/20/18
---
Time:
5pm
---
Map Link:
---
Notes:
The Project launch and associated conference will be held in Concordia's new "4th Space," the adjoining AB Atrium, and the new "Performing Listening Lab" at COHDS. The reception is sponsored by the Concordia Library.
History Inhabits Each of Us: Creative Engagements with Personal Story in Troubling Times
We live in troubled times. Millions are being displaced from their homes. Refugees and other minorities are facing intense Islamophobia and racism. Guns are killing our children. Economic inequality is growing. People are being left-behind. We are living the consequences of empire and settler-colonialism. The future of our planet is at stake.
Now more than ever, it is easy to think that history belongs to political and economic elites. These are the voices that we hear. But history inhabits each of us. Ordinary people live extraordinary lives and they have much to teach us. By going public with their stories, their extraordinary lives break the silence and move us to further social change.
Concordia University's Centre for Oral History and Digital Storytelling is proud to present a rich tapestry of research-creation projects this October. This has been timed to coincide with the US Oral History Association conference, when more than 600 oral historians from around the world will be converging on Montreal for four days.
These public projects bring oral history to the streets. They engage with personal story, and our troubling times, in creative ways: live performances, audio and art walks, visual arts, graphic stories, photography, street art, visits, and multimedia and museum installations. The projects include a diverse range of community members, students, alumni, professors, representing the richness of community-university collaboration.
The public launch, for these projects and the conference itself, is Wednesday October 10th from 5pm to 8pm in Concordia's new "4th Space" as well as the adjoining LB Atrium and the new "Performing Listening Lab" at COHDS itself. The reception is sponsored by the Concordia Library. Come join us!
The OHA Local Arrangements Committee:
Steven High, Cynthia Hammond, Kathleen Vaughan, Luis Sotelo Castro, and Kathryn Boschmann